For more than 30 years, Gregory Kelser has been sharing his message of self improvement and empowerment along with an emphasis on teamwork as a means to championship results.

Gregory is an undisputed leader who challenges each of his listeners to change the outdated approach responsible for the stagnation they may be experiencing in their careers. In his seminars, he offers examples of how one's willingness to work "beyond good enough" can often be the difference between average and all-star performance. He has motivated thousands of people from the front line personnel to the CEO of leading corporations.

Gregory, the son of military parents graduated from Michigan State University and along with Earvin "Magic" Johnson captained the Spartans to the 1979 NCAA basketball championship defeating Larry Bird and the Indiana State Sycamores.That same year Gregory was named both All-America 1st Team and Academic All-America 1st Team, the first in MSU's basketball history. He would become the fourth player selected in the 1979 NBA draft by the Detroit Pistons and played six years. Gregory has served as a television broadcaster for the Pistons since 1988 and the Big Ten Conference since 1987.

This tremendous experience provides the cornerstone for the principles Gregory stresses to help people in their own personal journey. Standing 6'8'' tall, Gregory's engaging personality and unique story-telling of lessons learned while ascending to the top as a student, athlete, broadcaster and entrepreneur will certainly inspire and motivate his audiences to 'think on a higher plane' and perform like CHAMPIONS in the workplace.

Among Gregory's audiences are corporations, professional associations, and learning institutions. Popular topics discussed are: The Pressure of Potential; Creating Your Niche; Critical Aspects of Teamwork; Fundamentals of Leadership; and Going Beyond Good Enough. Messages are always pre-selected depending on the needs of your organization. The goal is to usher out the WINNER in each of your players.

Invest in your business today by allowing Gregory Kelser to share one of his empowering messages with your team. To book Gregory for your next corporate event , seminar, or workshop please visit call 248.842.0477.


All the best,

Presenting . . .
Gregory Kelser's Champion's Approach to Higher Achievement !
---
ON SALE NOW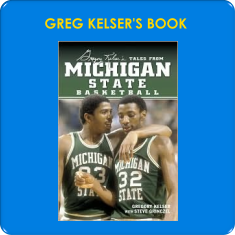 Kelser, Inc
248.842.0477
gkelser32@gmail.com